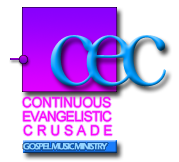 You can join the CEC Gospel Music Listeners Club and be blessed each month of newly released gospel product from the industries leading Gospel labels. CEC Gospel Music Mix brings you the best of Great Gospel Music by all of your favorite Gospel Artists.
YOU can listen to the CEC Gospel Music Mix programmed online.
The CEC Gospel Music Mix is on the move. Continually brining you great gospel music in your home and around the world. Now, you can receive a FREE copy of the CEC Gospel Music Mix weekly show to listen at your convenience. In your home, while at work or just taking a chill moment.
PASS IT ON! The Good News of the CEC Gospel Music Mix available for your listening pleasure. RENEW your membership today and be a part of the CEC movement. Your tax-deductible donations are greatly appreciated. Have a wonderful day and bless each and everyone that you meet.
God Bless!
The CEC Gospel Music Staff
---
BEST KEPT SECRET IN TOWN!
Hot New Internet Gospel Radio Broadcast Launch!
CEC Gospel Music Mix
Join the CEC Listeners Club TODAY!
Check out our weekly Playlist
Web-cast Gospel artists radio interviews
Top 10 countdown
For more information regarding
sponsorship packages, please call
(888) 718-2805
The CEC Gospel Music Ministry
"A Continuous Evangelistic Crusade Gospel Music Ministry
at the highway & hedges of life spreading the word of God through song."
---
"Gospel Rocks the Rockies" – DVD $20
Season's Greetings!
As we enter into this season of celebration and the end of 2009, remember to send blessings to each and every persons that you meet. We need to share God's love no matter who, what or where they are in life.
The CEC Gospel Music Ministry has a special gift for this season – "Gospel Rocks the Rockies" first video taping at the 2009 Denver Black Arts Festival is available.
This 45 minute video features some Denver's great gospel entertainment and is a fundraiser to help our youth to develop their talents, skills and knowledge of the Arts. Help us in preserving, promoting and perpetuating great gospel music and our African American heritage.
SPECIAL OFFER: Buy before December 25th and make a donation of $10.00 each when you buy 5 or more DVD's and receive one bonus DVD free.
---
"Individual Membership is $50.00 Per Year"
The CEC Gospel Music Ministry gives you the opportunity to join the CEC Listeners Club and receive:
One free CD per month of your favorite gospel artists' latest releases
Free DVD: "Gospel Rocks the Rockies" first video taping at the 2009 Denver Black Arts Festival
Discount tickets to upcoming promotional events
Receive a blessing every month.
Special CEC gift pack
---
"Corporate Membership is $250.00 Per Year"
The CEC Gospel Music Ministry gives you the opportunity to join the CEC Listeners Club and receive:
One free CD per month of your favorite gospel artists' latest releases
Website signage and a link to your website
CD Promotional Distribution to Members
Special CEC gift pack
---
You also have the option to pay by check or money order, mail to:
CEC Gospel Music Ministry
3070 Birch Street
Denver, CO 80207
Make Checks payable to: CEC Gospel Music Ministry
"When Deborah Walker's handling it, it's a done deal…"