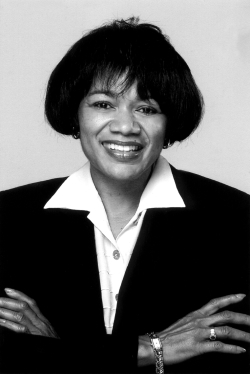 From humble beginnings in Denver, Colorado, Deborah Walker gained extraordinary experience and success in the music and entertainment industry. After working for the famed Johnson Publishing Company in Chicago and J. Walter Thompson Advertising Agency and KABC/KLOS Radio in Los Angeles, Deborah found a happy marriage of her production skills with her ability to reach large audiences through marketing, public relations and the mass media.
Deborah aptly demonstrated her talents through stints at 20th Century Fox Films and Bellmark/Life Records, where she was responsible for marketing success of monster hits like Tag Team's "Whoomp! There It Is" and "The Most Beautiful Girl In The World" by the Artist (formerly known as Prince). At 20th Century Fox, Deborah served as a liaison between film and television productions and publicity and marketing campaigns, producing behind the scenes documentaries, trailers and short features for programs like "Dynasty," Paul McCartney's "Give My Regards to Broad Street," as well as profiles of prominent actors such as Paul Newman and Dolly Parton.
Deborah continued to build on her success, providing marketing and production services to Word Records Gospel Division, Menes Records, Fantasy Records, Frontline Music Group and MCG Records. She developed and produced music videos for such artists as Lee Williams & The Spiritual Q.C.'s, Gospel Gangstas, Howard Hunt & the Supreme Angels, G-4, the late great O'Landa Draper, Michael & Regina Winans and produced two major GMWA Mass Choir Live Performance Videos.
Deborah's seminal work impacted the gospel industry and the way gospel music is packaged and marketed, making the genre more upscale, glamorous and accessible to contemporary urban R&B influences. Deborah continues to be an influential leader in the gospel industry, and regularly works behind the scenes with artists, producers, promoters and music label executives to stimulate the development of gospel music and its growing markets.
In 1985 Deborah Walker created DAWS Enterprises, Inc. as an independent marketing communications and information Distribution Network firm that began working with select individuals with special focus in audio and video productions, corporate, community organizations consumer product and public clients. While based in Denver, Colorado, Deborah provides independent marketing services to major music labels and artists, and is also involved in event promotion and management. Deborah Walker Communications has local and national contacts in all media and specializes in audio visual press kits and electronic programming. Satisfied clients include producers of film, recording artists, TV production companies, charitable and community organizations.
In 1994, Deborah Walker received the Nation Black Programmers' Coalition Award and the City of New Orleans, Proclamation for Gospel & Inspirational Music Day. She recently received the 2007 Excellent in Media Award from the Colorado Music Academy & Hall of Fame presented by Dr. Syl Morgan-Smith and McDonald's Corporation.
"When Deborah Walker's handling it, it's a done deal…"